Corporate social responsibility
Sense of responsibility - towards quality, employees and the environment
The corporate policy of the
cetto
GROUP
is developed, determined and constantly updated by our management in order to meet the requirements and expectations of our customers and to
ensure the satisfaction of our customers
.
Facts
founded in 1960
over 150 employees across Europe
excellent training company
certified according to

IATF 169494

certified according to

DIN EN ISO 14001

Member of the GKV code of conduct
Quality has always been our top priority. In addition to certification according to IATF 16949, our employees are trained in regular quality circles and all procedures and processes are examined for potential for improvement in order to achieve our
goal of "0 PPM"
. Each of our employees is
committed to quality, active environmental protection and energy-saving behavior,
regardless of function and task. The necessary resources are made available and the measures to achieve the goals are communicated, documented and updated if necessary for all employees. In order to implement our corporate policy, every employee is called upon to actively exercise constructive criticism and to continuously improve our processes and products through creativity and to strengthen our market position through innovations.
Qualified training and further education, commitment and flexibility
support this.
For us, quality also means
resource-saving and responsible handling of our environment
. The ecological approach is one of our corporate goals and is reflected in all processes of the
cetto
GROUP
. Our raw materials, products and services are purchased and used with a view to
conserving resources, saving costs and energy efficiency
. These include low-waste, wastewater, low-emission and energy-efficient production with constant improvement. Examples are our two photovoltaic systems or the down or recycling of all plastic waste. In addition, the environmental impacts resulting from our company's activities are continuously monitored. The introduction of the environmental management system according to DIN EN ISO 14001 began in 2010. In addition, we take part in the
"Zero Granule
Loss" environmental initiative, which aims to minimize the loss of plastic granules into the environment. All participating companies must draw up an action plan to prevent granulate loss and initiate the implementation of this plan.
We always try to improve quality, the environment, energy consumption, service and technology in order to increase our performance and to continuously develop our employees and management. Our goal of avoiding errors is pursued with the highest priority. The quality, environmental and energy awareness of our employees is promoted and our operational and strategic corporate goals are defined, implemented and continuously monitored.

We want to be a pioneer in the market . To this end, decisions are made on the basis of sustainable development and investments are made accordingly. Independence, steady growth and flexibility are among our corporate goals.

Compliance with global requirements for ethical and moral behavior, as well as the requirements for correct behavior under competition and antitrust law (compliance) form the basis of our business activities. Our aim towards our employees is to fully comply with the legal requirements with regard to human rights, remuneration, working hours, health and occupational safety and, wherever possible, to go beyond them. This also applies to topics such as non-discrimination, harassment, freedom of expression and privacy .

Our activities are certified by the GKV code of conduct.
"Our business is characterized by an unbelievable dynamic, which constantly presents us with new challenges.

In addition, cetto defines itself through unchangeable values: our employees are the heart of the

cetto

GROUP

. In my opinion, mutual respect, trust and appreciation are key to the high level of identification of our colleagues with cetto - and are among the most important components of our corporate culture. Adhering to these values is also important to us when dealing with all of our business partners. In addition to technology, know-how and innovation, this is an important component of success. "
Norbert Braun
Sustainability
Our environment is particularly important to us!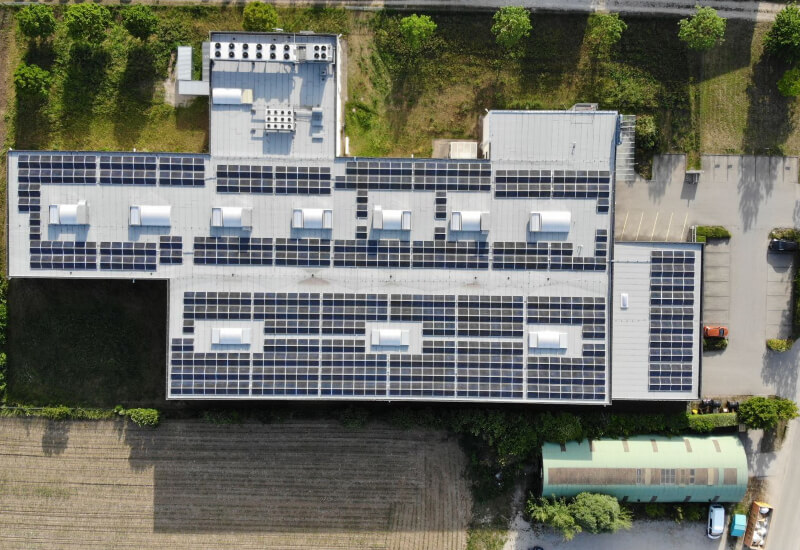 Photovoltaic
In 2020, the entire roof area of our production plant 2 in Saal an der Donau was equipped with photovoltaic modules.

The self-use quota of the 297 kWp output is 99.8%. With this investment in sustainability and self-sufficiency, we avoid the emission of approx. 165 tons of CO2 annually. You would have to plant almost 16,300 trees every year to bind the amount of CO2 saved by the system! Together with our photovoltaic system, which was put into operation in 2011, on the roof of our production plant 1, the cetto GROUP has a total output of 393 kWp!

With our two systems we avoid an annual emission of approx. 215 tons of CO2, which corresponds to the equivalent of 21,600 trees planted annually.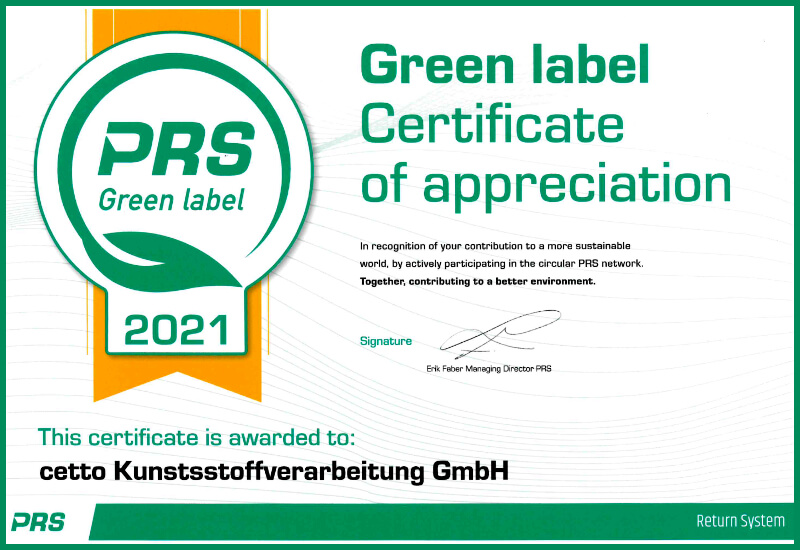 PRS Green Label award
We are pleased that the PRS has been awarded the "Green Label Certificate of Appreciation".

Through the controlled processing, reuse and shared use of pallets, we can save a large number of trees from being felled, conserve resources and thereby save CO2. All Green Label partners together create a sustainable network with responsible producers, plastics processing companies, transporters, depots and dealers and thus contribute to a sustainable improvement in resource use and a better environment.

This enables the PRS network to save 400,000 trees per year - this corresponds to around 1,000 trees per day!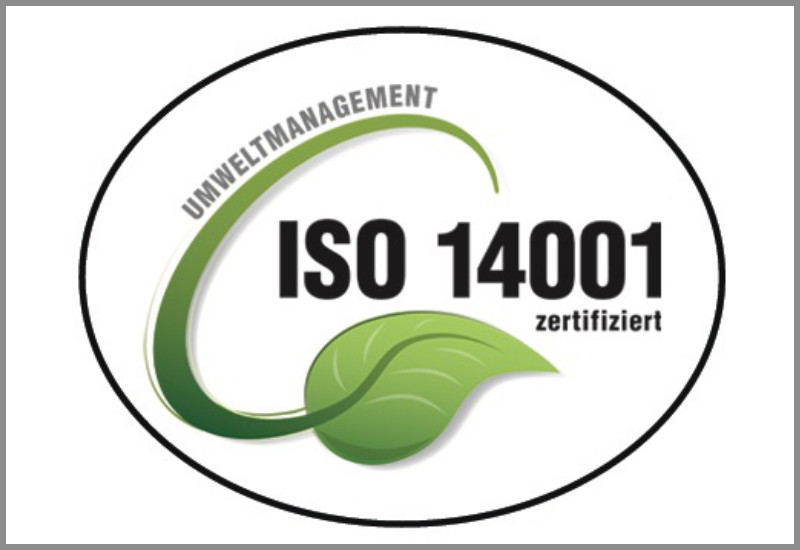 Certification according to DIN EN ISO 14001
Our company has been awarded the environmental standard DIN EN ISO 14001.

With this certification, we are sending a strong signal and showing that we attach great importance to the responsible use of natural resources. The requirements of the standard aim to ensure that companies sustainably promote their operational environmental protection, set their own goals for its implementation and reduce the negative effects of business operations on the environment - including the life cycle assessment of their products and services.

Our certification according to DIN EN ISO 14001 illustrates our active commitment to the environment and nature: we ensure careful use of resources and actively implement all necessary measures to protect our environment.